Aerosol Sushi, Milano 2006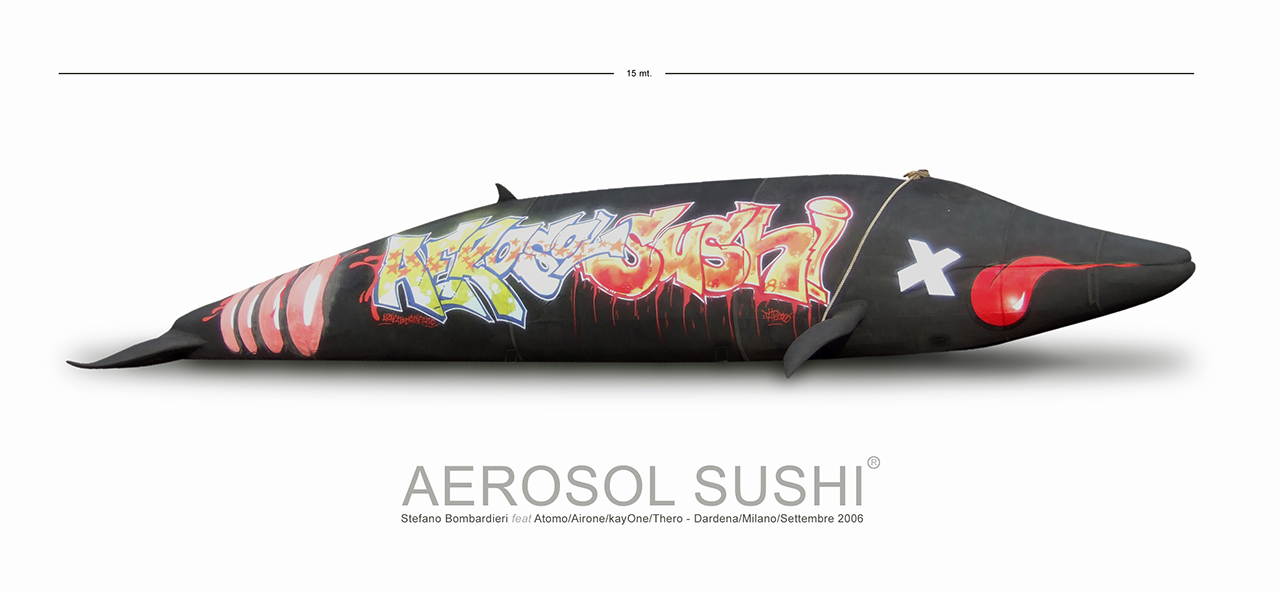 Stefano Bombardieri is fantastic artist whose artworks you can see here. In 2006 he created a beautiful work entitled "Gaia and the Whale", made up of a little girl who pulls a whale with a rope (admire it here). Little girl and whale have both actual size. This work has been exhibited on several occasions and locations, until it has landed in Milan at the center of the dock on Navigli, on a large barge built for the occasion.
In 2006 I started a nice collaboration – that continues to this day – with the associations of Navigli canals, and just by a hint of these, I had the crazy idea to ask Stefano if I could paint his sculpture. The idea was very simple: paint the whale at night and the day after wait for the inevitable controversy about the writers who have no respect for anything and illegally damage monuments. Only then reveal to the public the fact that the whole operation was coordinated and that, as usual, politics and media have opened their mouth only to give breath to prejudices.

Stefano was immediatly agree, then I involved my friends KayOne, Atomo Tinelli and Thero to speed up the job night time. Photo reporter Paolo Salmoirago documented the whole night.
How do you believe has it gone? Exactly as expected. The day after our blitz, the media and local politicians foolishly attacked furiously until, after 24 hours, finally came to light that we had every authorization… any other comment is superfluous.
All credit goes to Stefano Bombardieri who sacrificed one of his artworks for us… we had just fun, it was not our intention to paint a masterpiece, but only to make people think.
Off course, long life to the whales.
All the photos (copyright Paolo Salmoirago) can be seen here.
Warning: Parameter 2 to wp_plugin_associated_posts::Filter_Posts_Result() expected to be a reference, value given in /web/htdocs/www.air-one.net/home/wp-includes/class-wp-hook.php on line 287